Case Study
Team: Laura Lefurgey-Smith & Adan Uribe
Client: Talent Collective for the first annual Up Conference
Deliverables: Branding, print collateral, web design & development in WordPress
Up Conference was the first of its kind in Vancouver: A full day conference for freelancers and solopreneurs. The owners of the Talent Collective approached us to help them build a brand and online presence to promote the conference. Myself and Adan were excited at the opportunity to collaborate with Crystal and Annika from the Talent Collective to build this site.
The Brand
The ladies of Talent Collective wanted to create a fresh brand, that communicated well to lively, busy and efficient solopreneurs. They requested a handmade, hand-lettered font that incorporated a sense of "going up". They loved the whimsy of have a kite as part of the Up Conference brand, so I focused the brand in this direction. Along with the handmade logo, I designed a Style Guide for the Conference, consisting of a bright and lively palette and clean, modern fonts.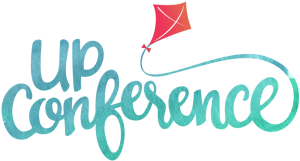 The Web Design
The Up Conference admittedly didn't involve a ton of UX: The types of content that our clients wanted to include were given to us from early on in the project, and as they were promoting and marketing the conference, they knew exactly to whom they wanted to target. Our job was to build a platform that would allow them to target the conference to both sponsors, speakers and attendees, as well as to sell 150 tickets.
In the early stages of the project, I spent time doing visual research for the brand, as well as research to similar, one-page event sites. We felt that an event landing page was the best direction, given their needs and the scope of the content. Starting with my own photo as a hero image, and conveying a sense of peaceful solitude, and then going into the more lively and bright aspects of the site.