Project Case Study
Project: Kabuni Maker Marketplace app, RED Academy student project
Team: Jenny Minke, Park Sam & Laura Lefurgey-Smith
Deliverables: User research & competitive analysis, user flows, personas, high-fidelity prototype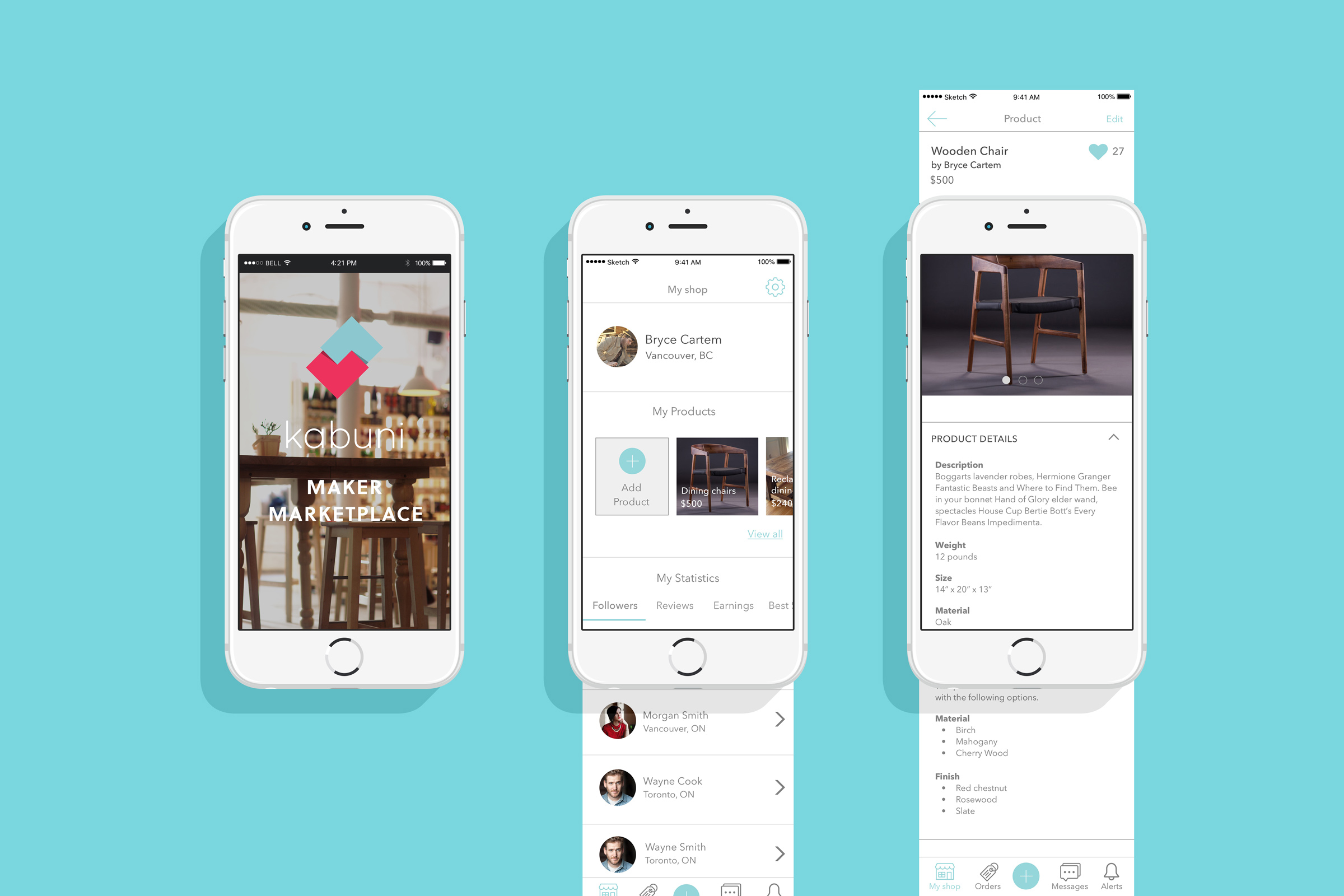 Kabuni's Business Goals
When we first met with Jill from Kabuni, we had a lot of questions about what they were aiming to accomplish with the app. Kabuni has an existing app for interior designers. There were a number of business goals that they wanted us to keep in mind as we delved into research and planning:
Take logistical and administrative burden off internal staff
Build a sense of community for artisans and interior designers
Create a one-stop shop for designers on the Kabuni app
User & Competitor Research
The begin our three-week process of designing the Maker Marketplace app, we began with user and competitor research.
We looked at a number of direct competitors, including Etsy, Houzz, Handmade by Amazon. Specifically, we looked at how these competitors allowed users to communicate and coordinate with each other, the ease of use in terms of setting up the online marketplace, as well as the overall usability of the interface.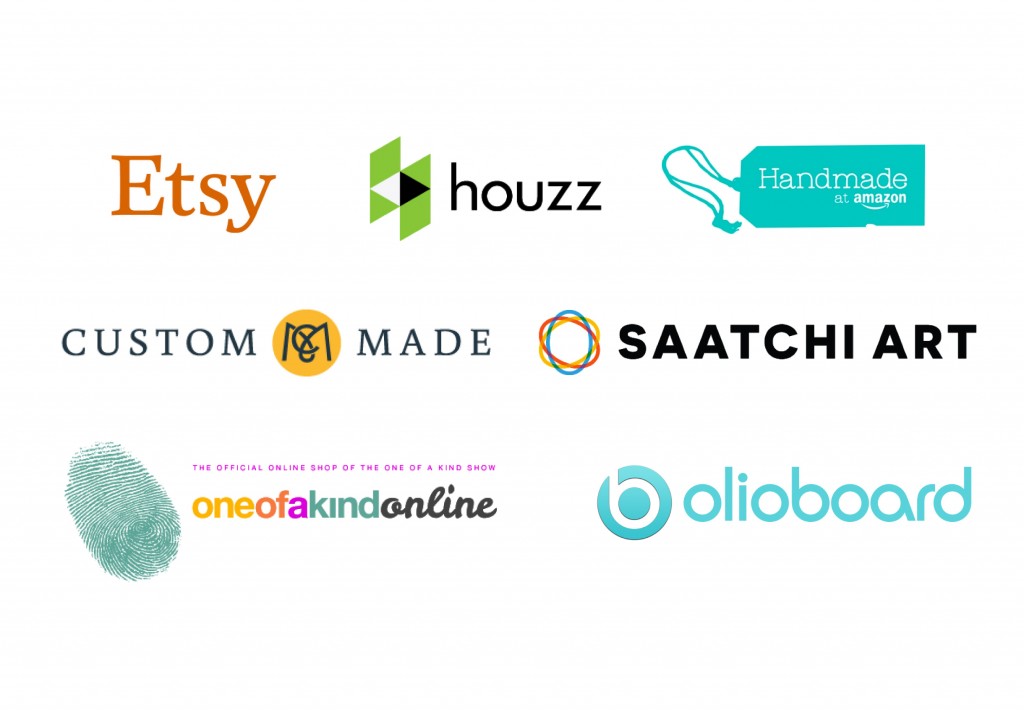 Kabuni provided us a number of artisans to interview, as well as their full roster of artisans and artists to survey. We also reached out to non-Kabuni artisans to interview and survey. After sending out the word to everyone on the list that Kabuni gave us, we ended up with:
4 Kabuni artisans interviews
2 Etsy user interviews
2 Interior Designers interviews
11 Kabuni artisan survey responses
3 designers survey responses
The people with whom we spoke were incredibly helpful and gave us some great insight. We wanted to know what current mediums they used to sell their goods. If online, what platforms did they use and why? What did they like or dislike about the platforms they use? If they sold in person at markets and fairs, we wanted to know why, as well. We also asked them about their process, how they coordinate custom orders, how they communicate with their clients, and how they promote their business.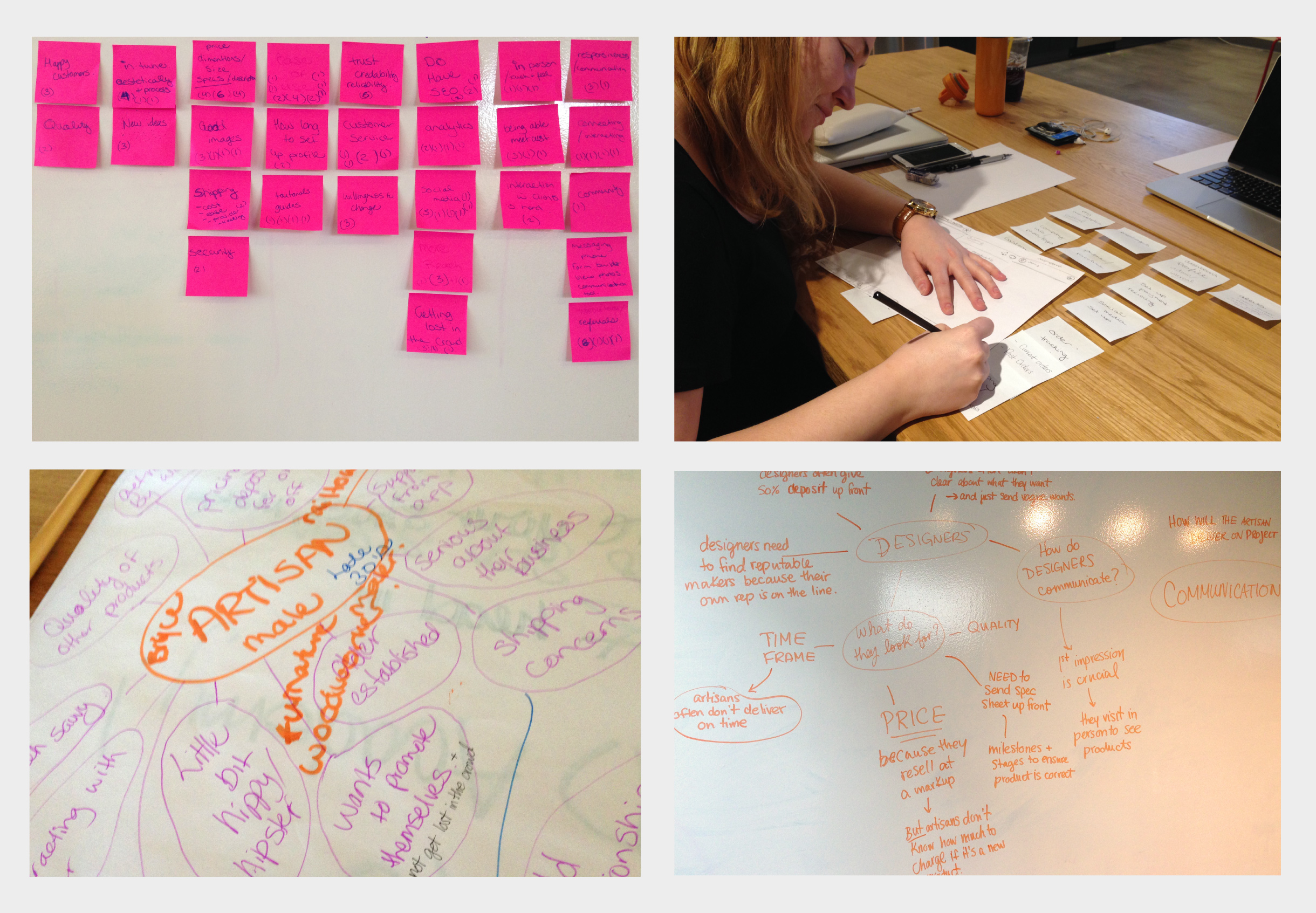 Research Findings
In the analysis of our research, we found some definite patterns and consistencies for both Kabuni and non-Kabuni users. Because artisans are busy people, many of whom sell on more than one platform and at markets and fairs or have their own storefronts, they all need platforms to be easy to use and have excellent customer support. Most also found that the greatest benefit to selling online was having a further reach than selling in person.
The artisans had similar pain points in common, as well:
They feared getting lost in the crowd of all the other users
Poor interaction with customers and designers
Timeliness of setting up their shop
We found that users were loyal to platforms if that platform met their needs. Most users didn't use more than one platform, simply because of the time it takes to manage an online shop.
Personas
Taking patterns and common pain points from our research, we created two personas: Bryce, a furniture artisan and Morgan, an interior designer.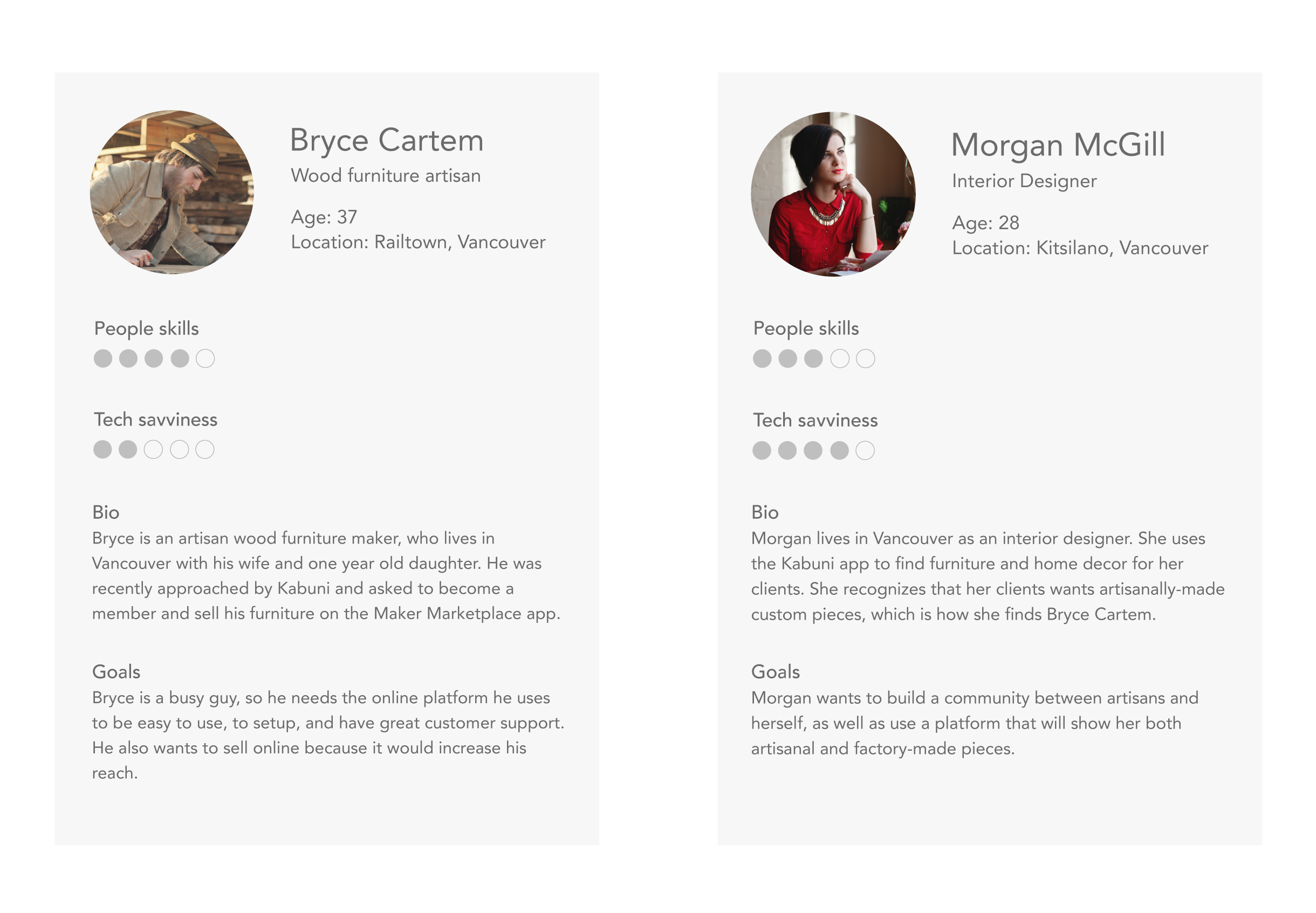 Strategy & Planning
Before we began to design this app in any capacity, we needed to determine what our minimal viable product (MVP) would be, based on our research and Kabuni business goals. We recognized that it was important to begin with the most important features the app would have first, and then go from there.
The MVP for the Kabuni Maker Marketplace app was:
A dashboard to upload and sell pieces, setting description, price, size and other information
Set options for custom pieces
Communication between artisans and designers
Ability for artisan to see statistics about earnings, reviews, and followers
Alerts about new followers, reviews, and favourites
We began to draw out a user flow for Bryce and demonstrate how he and Morgan come to work with one another. We also drew out Morgan's user flow, from the Kabuni app side, but only for the purpose of knowing at what point she would come to know Bryce.

Design
Design Studio & Paper Protoptying
In the process of creating our user flow for Bryce, we did a design studio of some of the more important pages to get things going. Doing the design studio was a really useful tool for the three of us, as we all had different ideas and approaches.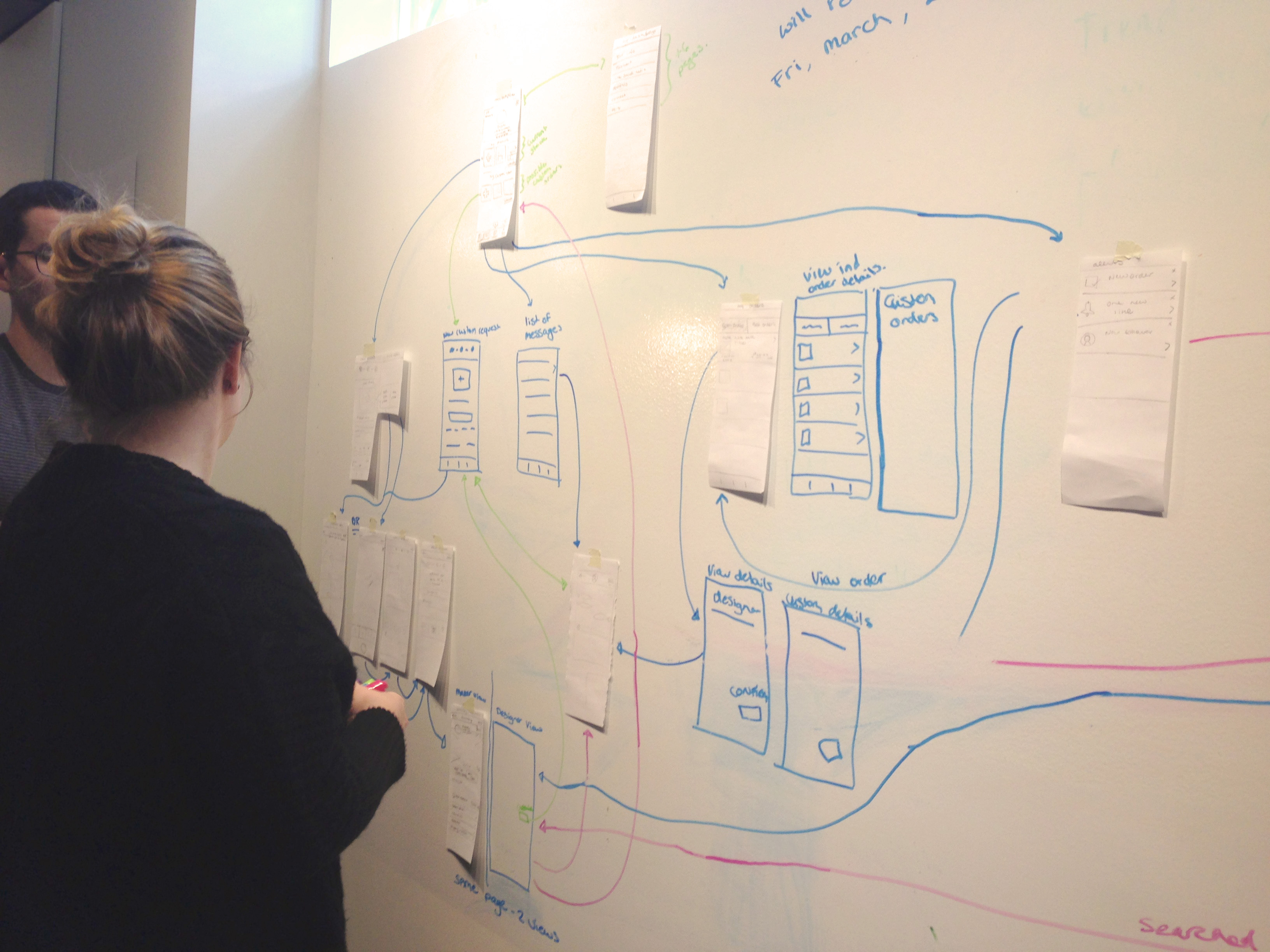 Mid-fidelity wireframes
After some extensive user testing and iterations, we began to design out our mid-fidelity wireframes in Sketch.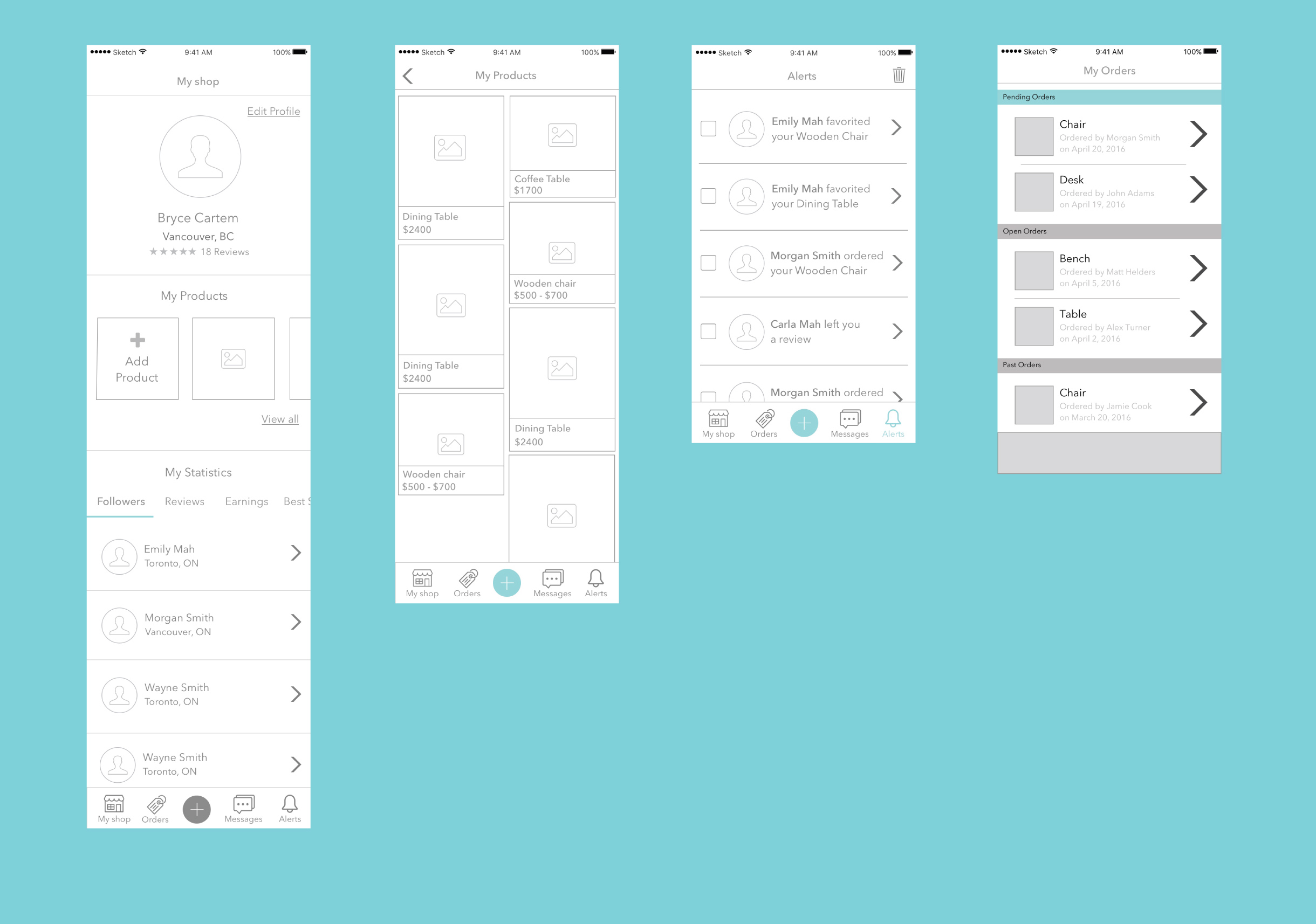 A challenge in customization of products
We ran into some problems when it came to designing the flow for the artisan, when he or she uploads a new product. From our research, we knew that artisans would want the ability to upload a finished product (with no ability for customization), as well as a product that could be custom-made. We considered having two sections for the artisan – one for finished pieces and one for customizable pieces.
In order to solve this issue, we ended up going back and asking some of the users we had interviewed, and asked them about their preferred process when dealing with custom pieces. They felt that having one flow to add custom sections was their preferred method.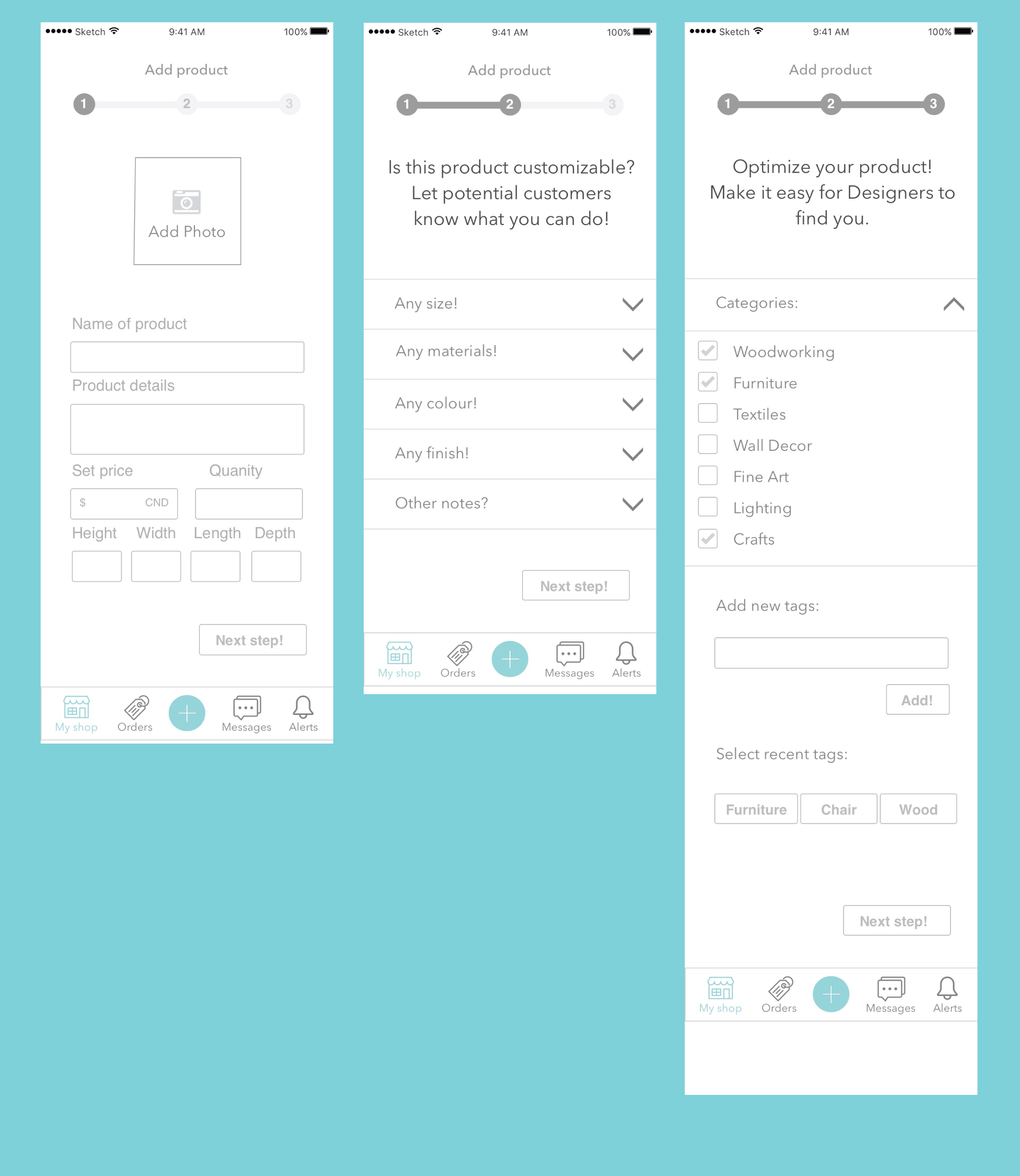 High-fidelity prototype
We presented a high-fidelity prototype to the client, using existing colours, fonts and styles. We sourced new iconography, but with similar style as icons from the Kabuni app. The Kabuni Maker Marketplace uses Kabuni's light blue brand colour, whereas the Kabuni app uses a hot pink. We decided to use blue for the Maker Marketplace, because that way when artisans can switch between the two apps, they always know in which app they are. View the full prototype on InVision.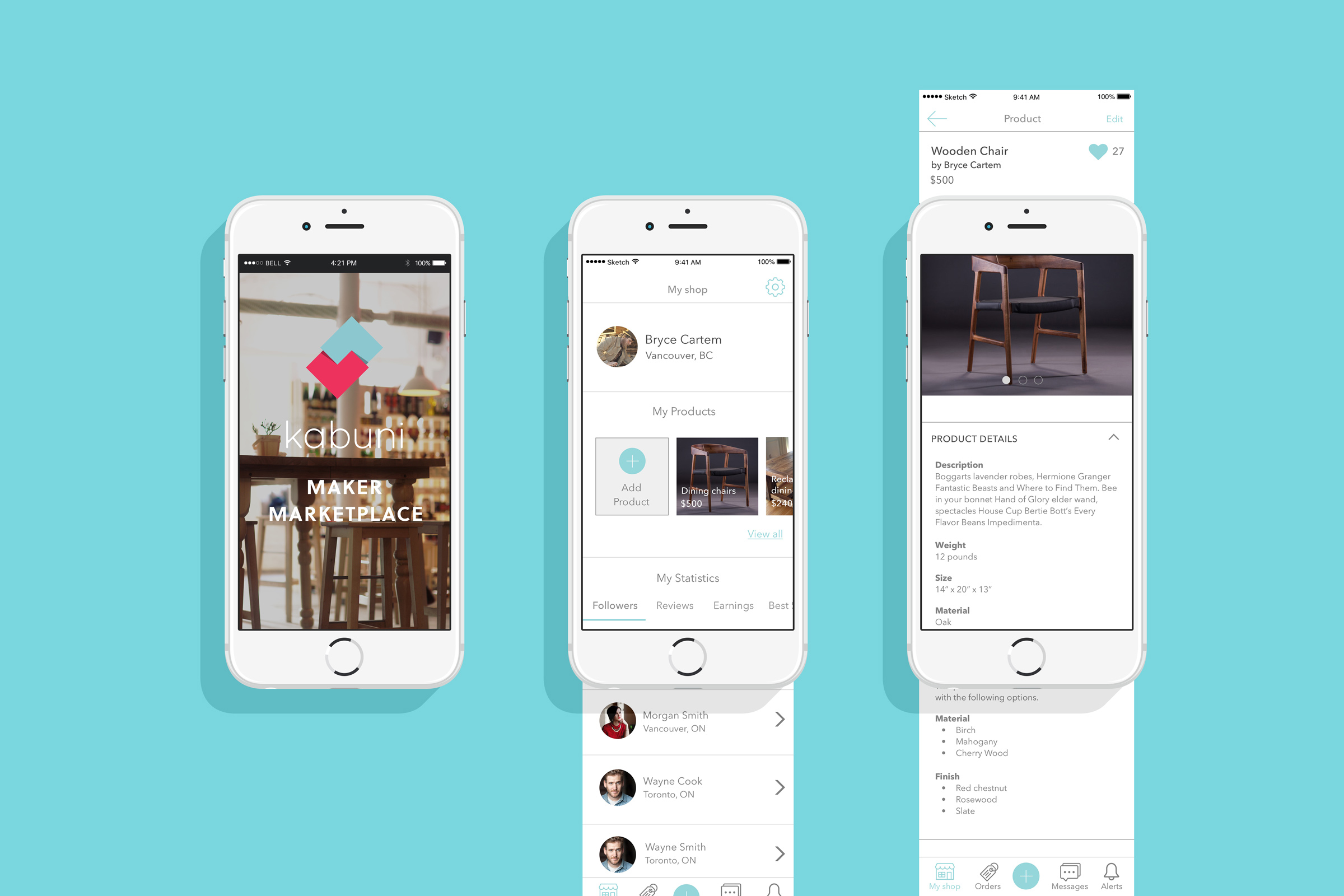 Conclusion & Future iterations
The clients were very happy with the thought and strategy that we had put behind the Kabuni Maker Marketplace app, in the short time that we had. We handed the deliverables to them so that they may use them as they continue to work on this project themselves.
As we were limited by time, we discussed with them a list of "nice to have" features that could be implemented:
Shipping tracking system
Order tracking system
Order planning calendar
Map search feature for artisans
Thank you!